Reale and the other cuts: Upstream salmon for everyone
Our cuts with their different weights and flavours fits perfectly with every taste experience; starting from the latest novelty: the Reale di Salmone Stagionato.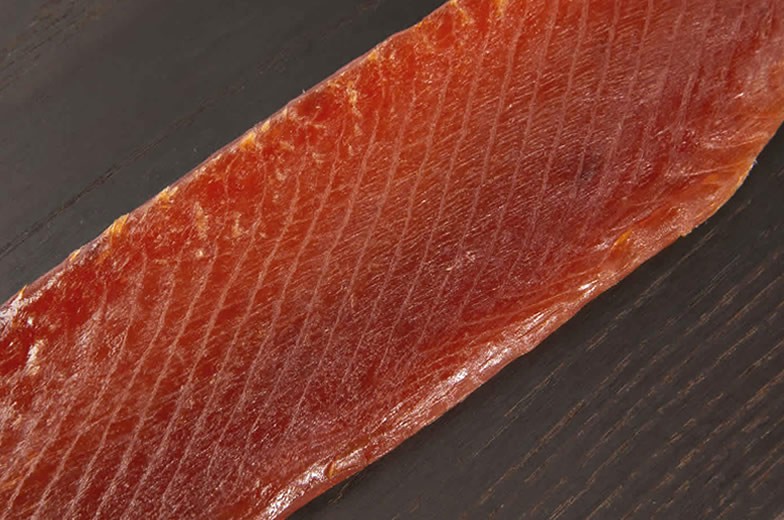 The word Reale (in English Royal, ed.) depicts its characteristics of quality and greatness. It enhances the wide salmon flavours and expresses itself with a unique saltiness and flavour concentration: all this is the brand-new Upstream cut, the Reale di Salmone Stagionato.
Available in 240g pack, Reale derives from our smoked salmon which is then aged at controlled humidity and temperature following Claudio Cerati's rules. It's vacuum packed and then put inside an elegant black cotton Upstream bag. Thanks to its characteristics, the Reale di Salmone Stagionato can be cut into slices or grated as bottarga.
A pleasure that satisfies every customer through a double declination.
All our cuts are thought to give multiple and different tastes for different expectations. Upstream proposals have several flavours and weights and they are defined by our clients' needs and desires. This aspect is an important part of our offer since it makes perfect every single experience with our salmon.
Top of the tops: our Side

Our top product, the side, represents our commitment in taking care of each client's need about the taste or modes of consumption.
Ideal to be shared and for the most important events, the Upstream salmon side offers a complete nuances journey. Here we can find all the characteristics typical of our salmon: uniform meats and soft texture. You are able to highlight every single taste in different ways, according to the cut of the side (as expressed in our Upstream tasting: how eating and preparing our smoked salmon).
The Belly for those who love strong flavours

Salmon belly is a very unique cut. It's definitely unusual and never thought before in the salmon world. It enhances some characteristics of the fish. Indeed, the belly has an intense and salty flavour, particularly appreciated by marine accent lovers.
Perfect to be cut into slices, the belly is a cut perfect for individual consumption.
UP.5: ingots on the go

From sweetness to softness up to salmon delicate smoky flavour, bite after bite. We are listing our smoked salmon qualities, all in five ingots ready to use, the UP.5. With their easy and quick use, our salmon ingots are an exclusive snack, a healthy and tasty food for an alternative break, to be appreciated on the go as well.
Right for its special combination between high quality and mode of consumption, UP.5 were selected as Novelty product during the fair Cibus in 2022.
The elegance of the Fillet for your special occasion

A small selection of sea and sweetness, the salmon fillet is sweet and salty at the same time, a cut indicated above all for those who prefer more delicate nuances. It gives pleasant taste sensation if eaten as it is, cut into small slices. The fillet is the ideal cut for those who love the easiest preparation: the smoked salmon as it is, together with a good glass of wine or a craft beer.
Thanks to its exquisite characteristics, it gives a great satisfaction on special occasions, as well.
Quick recipes with Millefoglie and Tartare

From the most typical cut of our salmon, we obtain soft thin slices ready to go. They are precious companion for those who do not have enough time and mean to prepare a quick but healthy dish.
With our salmon millefoglie, you can find both sweetness and saltiness, directly in tasty slices to keep always in your fridge.
They are perfect to fill sandwiches and to prepare fanciful salads.
Our salmon tartare follows the same logic, small salmon pieces finely cut. We obtain our tartare from the side to propose all the flavours and aromas of our salmon together with a ready meal. A simple cut for those who like to enjoy an exclusive taste right away, without any previous preparation.
We suggest to try our tartare with a drop of peaty whiskey and a grate of fresh ginger.
Haute cuisine hits with Classico

Chefs like it the most, for its richness in aromatic hints and its versatile use: classico is a cut for those who love strong flavours, a perfect combination among a more decisive smoking scent, saltiness and meat softness.
We get our classico from the final part of our salmon, part in which meats are thinner and, for this reason, get more aromas and scents from marinating and smoking process. As a result, it's saltier than the usual flavour typical of Upstream smoked salmon.