Upstream salmon awarded at the Merano WineFestival
Platinum, Gold and Red are the three score bands of the WineHunter Awards, which went respectively to the slices, the side and the cured salmon.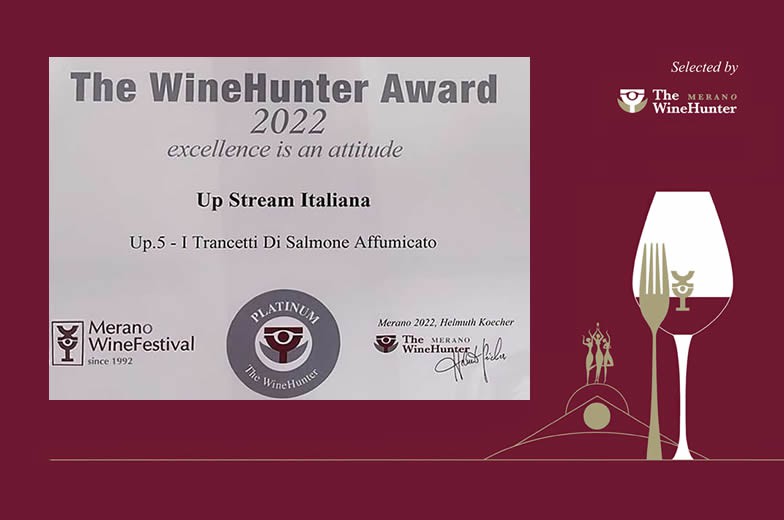 The WineHunter Award is the prize for excellence and superior quality awarded each year to gastronomic products at the Merano WineFestival. In the stunning South Tyrolean town, we entered the contest as artists of taste and won the Platinum, Gold and Red awards.
The evaluation method used by the committee in decreing the awards is based on several criteria; not only the quality of the product, but also aspects such as raw material, craftsmanship, sustainability, and the product's outstanding personality.
Since 1992 the Merano WineFestival has been promoting high quality wine, which in the following years opened up to gastronomy, through this opportunity to meet and taste, five days to learn about new products and market trends, taste, exchange opinions and participate in show-cooking, conferences and master classes.
Platinum for the slices of Upstream salmon

The WineHunter Award Platinum is the highest scoring award, 96 out of 100: we won it with Upstream smoked salmon slices. Our UP.5 is the ultimate expression of smoked salmon enhanced through a convenient and quick way of consumption; five soft salmon slices that can also be enjoyed outside the home for an alternative break and at the same time a very practical ingredient for the restaurateur.
This is not the first award given to our slices; at Cibus the UP.5 was elected as product novelty 2022.
Gold per la Side of Royal Upstream salmon

Already the winner of last year's most authoritative award, at this edition of the Merano Wine Festival the 1 kg salmon side validates its previous accolade with the Gold award.
The perfect synthesis of salmon flavours, the baffa has always been our flagship product as it offers three flavours together: the sweetness of the fillet, the savouriness of the belly, and the smoky aroma of the classic back cut.
We also offer our 1 kg salmon side in the Royal Selection 01, Royal Selection 02 and Royal Pack 1 kg.
Red for Upstream cured salmon

Finally, among the award-winning products is cured salmon, Upstream's big news. To our latest creation goes the Red Award. Resulting from the combination of Parma's experience on curing and Northern European knowledge on salmon, the cured salmon is a fresh product, without preservatives.
This is achieved from the best smoked salmon side that have undergone natural curing, with controlled humidity and temperature and the right timing.
Available online by pre-order, as soon as it is ready the cured salmon is packaged in an elegant black and silver cotton bag in the unmistakable Upstream style.
The awarded products
UP.5, tranches of smoked salmon
The perfect fusion of salmon flavours