Pink Summertime: Upstream salmon ready for summer!
Tartare and Millefoglie are online with new packaging, a limited series designed to add more colour and effervescence to the most savoury moments of the summer season.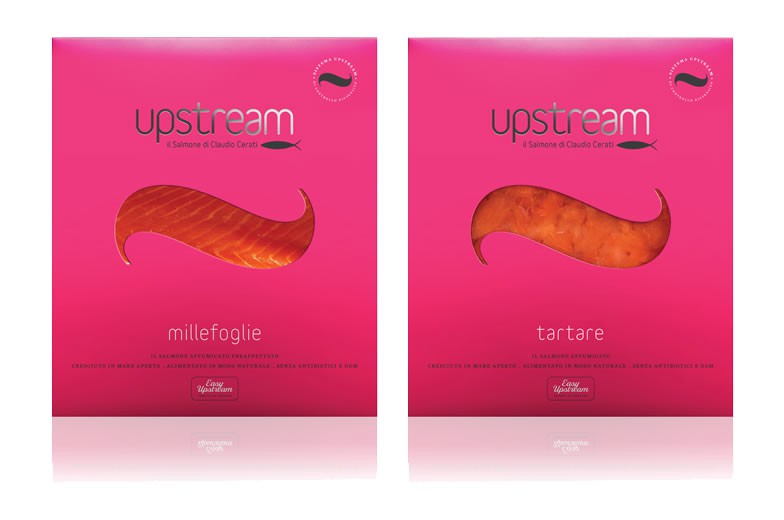 Upstream smoked salmon gets a makeover. Pink Summertime is the new Tartare and Millefoglie package, a limited edition series in line with the bright tones of summer. 
From black to pink, from pure elegance to exuberance, it is only the packaging that changes; the content is the same, Upstream smoked salmon, unique for its production method and incomparable organoleptic qualities.
Its natural goodness and delicate taste are ready to use with Tartare and Millefoglie, the best cuts for summer consumption, practical to serve on a boat or on the beach, in a shelter, at home or wherever you want to enjoy the pleasure of a fresh taste, seasoned with the lively touch of the new packaging. 
Tartare
Upstream salmon tartare encompasses all the flavors of the cut from which it is made, the side. It comes in small, finely knife-cut pieces, versatile ingredients for quick and easy dishes like summer ones.
In the Upstream Tartare we find aromas and nuances of the mustard, of healthy meats, processed with delicate marinating, using alternating salt and sugar, and light cold smoking with beech wood from the Parma Apennines. 
With its exclusive qualities, smoked salmon tartare enhances the refinement of preparations, even the quickest ones; in the Pink Summertime version it adds colour and liveliness to the most delicious moments of summer.
Try it with a drop of peat whisky and a grating of finely chopped fresh ginger.
Millefoglie

Upstream salmon millefoglie are made from the classic cut, the most tender and flavorful part of the fish, characterized by a perfect balance between sweetness and flavour and, as always, lightness of the meat.
They are presented as soft slices of salmon to be kept handy in the refrigerator, ideal for filling gourmet sandwiches, for example, or to be tasted naturally. In fact, it is on its own that a quality salmon expresses its best value and the  Upstream smoked salmon is sublime.
In Millefoglie the taste is stronger, with a slightly more accentuated smoky aroma and balanced by delicacy; an intense flavour, well represented by the effervescence of Pink Summertime.
At the table with the new packaging: inspired by our chefs
The new Pink Summertime packages are part of the Easy Upstream series, the ready-to-serve cuts. Tartare and Millefoglie versatile and practical, perfect solutions to enjoy light dishes, quick to prepare or to savour Upstream salmon in its natural state.
Excellent also for daily consumption, Easy Upstream salmon is perfect for fresh, colourful and tasty creations, such as those created by our chef friends. Be inspired by their suggestions with our book Evolutions and variations of the divine salmon.
All the goodness, ready to be tasted
The classic cut, always at hand