Gourmet salmon: inspirations and contributions from Haute cuisine
The nature of our smoked salmon allows you to make selected choices, even in preparations. With gourmet recipes we experience the joy of tasting it at its best.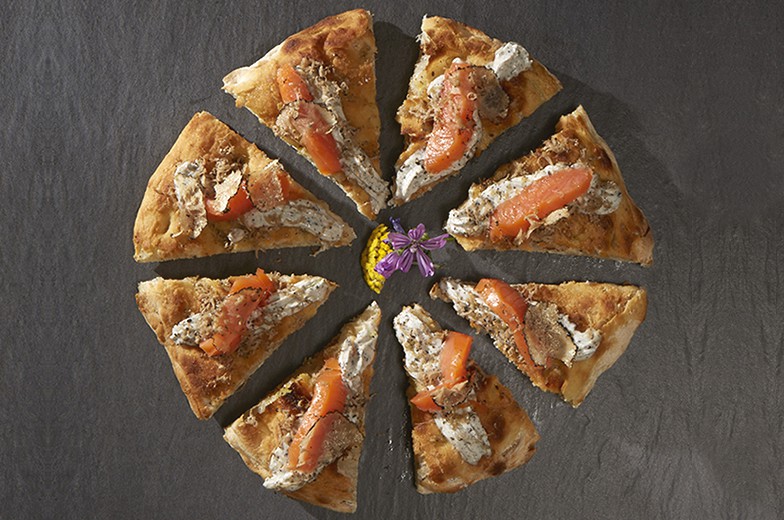 "I cannot think of large-scale distribution, because my production, due to its artisanal nature, would not allow it. I produce for a few. At the highest possible level." – Claudio Cerati
To selected delicatessens, restaurants and wine bars: Upstream smoked salmon comes where love of good taste and the desire for quality exist beyond all constraints.
For gourmands the truth is a game of the senses, satisfied by the goodness of the meat and delighted by the soft texture and delicacy of the aromas: the taste experience of our smoked salmon is enough in itself because Upstream is unique and cannot be compared to others.
The value of Upstream salmon was immediately recognized by those who turned food into an art: Upstream salmon is at the service of Haute cuisine and, in a certain sense, owes the merit of getting to where it is now. As a matter of fact, it was a restaurant friend who suggested to Claudio Cerati that he should market this smoked salmon that is so different and unparalleled; continuing to produce it only for his closest friends would have been a pity.
Thus, the audience expanded, though remaining among very sophisticated palates.
Quality salmon for gourmet recipes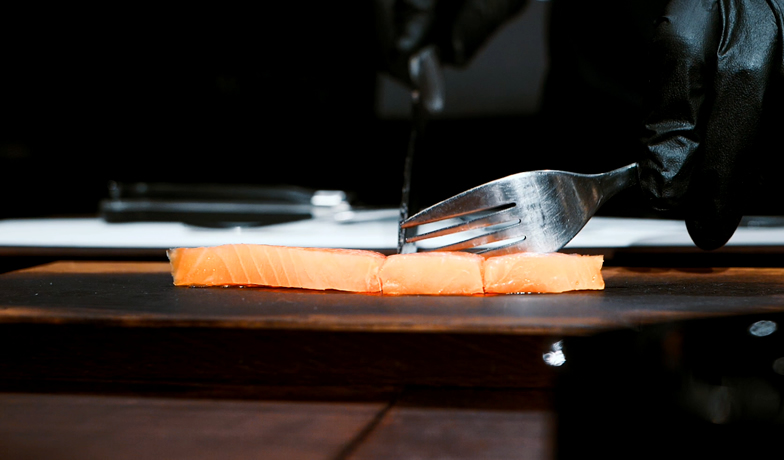 Haute cuisine creations rely on maniacal choices. Thanks to the ability of recognizing and making quality one's own, the selection of raw materials is focused on a few priorities, including naturalness.
Freshness, lightness and softness are the qualities of our smoked salmon. Several chefs have made it a main ingredient for their gourmet recipes, which they have had the pleasure of sharing with us in Evolutions and variations of the divine salmon, the Upstream book for those who have strong expectations from fine food.
In this collection of recipes to be inspired by or to replicate, a praise for high quality comes from the expert use of our cuts, even those ready-to-eat, such as tartare.
Smoked salmon tartare
Tartare is a preparation obtained from the side. The small pieces of salmon finely cut with a knife are particularly interesting for creating simple and quick dishes, in which freshness and good prevail.
In the smoked salmon tartare we can enjoy the flavours that naturally belong to the fish, enhanced by two special processes, developed by Upstream: marinating with small amounts of sea salt and sugar alternated, and delicate smoking with beech wood from the Parma Apennines.
With our smoked salmon tartare it is possible to bring freshness and goodness to the table in simple steps: in the Upstream book Claudio Cerati suggests seasoning the tartare with ginger, a few drops of whisky and pepper, accompanying it with a seasonal salad.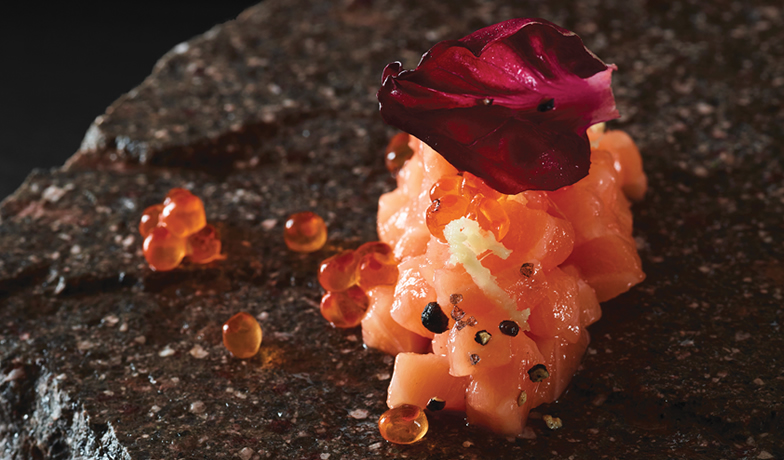 A simple and intriguing preparation, accomplished through a delicious and extremely practical cut.
Gourmet Pizza with salmon
Within our book a special section is focused on pizzas.
All prepared by Giovanni Mandara and Alessandro Siri, two great personalities at the service of excellence at the table, who also told us more about their first encounter with Claudio Cerati's salmon.
"I had given up on salmon. For a gourmet pizzeria the current level of what is available on the market is really too low. But by tasting Upstream, I finally found the flavour of an excellent product." – Giovanni Mandara
"I had purchased a side at a gourmet store and was delighted, surprised by its sweetness and lightness, without heavy smokiness." – Alessandro Siri
Therefore, we were delighted to include in our gourmet pizzas selection the Pizza with Upstream Salmon Belly and Fragno Black Truffle or the Pizza with Vignola Cherries, Upstream Salmon Belly and Capers Gin.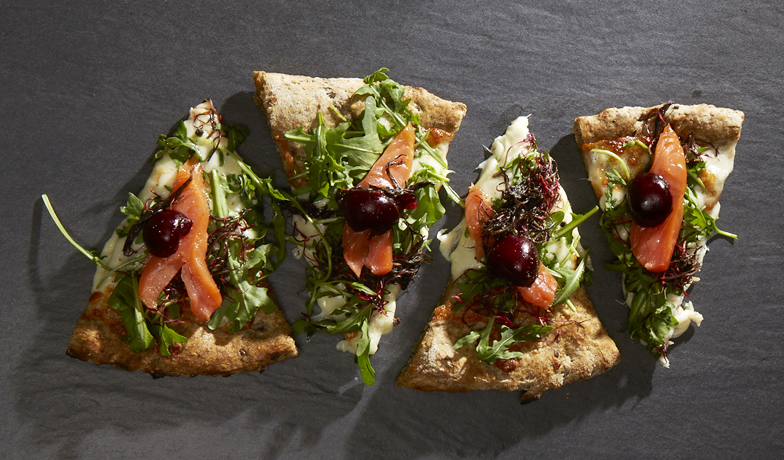 Plenty of original ideas, some even funny, that prove the versatility of our healthy, light and elegant salmon.
Let's leave to the lovers of fine taste the pleasure of preparing it and the joy of tasting it.
The collection of Upstream recipes, in a precious photographic volume