From the idea to the evolution of Upstream aged salmon
It arises as a taste completely new and reaches all the customers through several modes of consumption. The latest novelty is our cold meat salmon, cut into slices.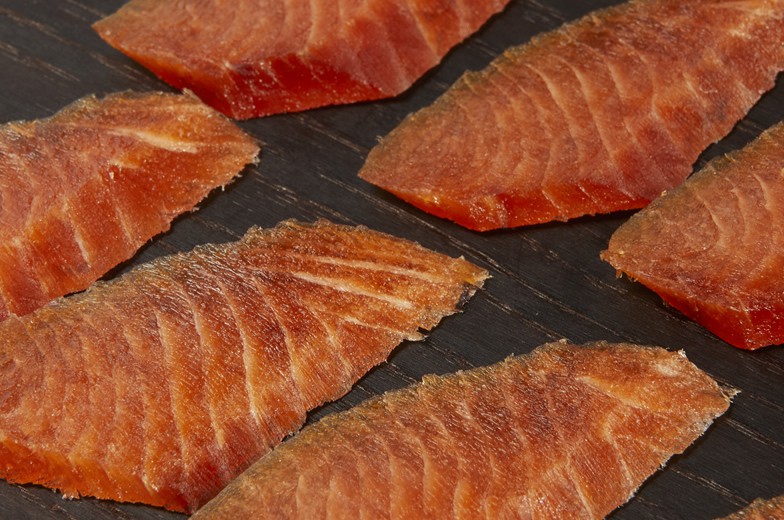 Pig is to Parma ham, as salmon is to us. We choose the best salmon for way of living, and we follow the roots of aging: only Parma and Claudio Cerati's salmon give birth to the Upstream aged salmon.
We choose the salmon Salmo salar that lives in the cold and crystal-clear water of the Northern seas. Born and raised according to the Non-Intensive Control System, it is healthy and lean, and has firm and tasty meat. Its environment is natural, pure, with constant water check and breeding without antibiotics and GMO's.
As for high-quality meat, our salmon is also aimed to a particular cut depending on its shape. Doing so, each portion can express its typical flavours range.
Tradition as innovation

Idea moves from Claudio Cerati curiosity and his perspective of creating something completely new but closely related to the land tradition of Parma.
Indeed, it's here where aging is virtuosity, rooted in ancient techniques, based on waiting and sustained by the weather of this area. The wind of our hills, delicate and dry, helps to age naturally while time goes by giving new texture. This expertise is the key: day after day, attempt after attempt, we have defined the right balance between time, temperature, and humidity, reaching an aging that enhances all the flavours of our salmon.
We recommend our aged salmon in several ways so that each tasting results to be excellent.
After Reale, it's time for Salume di salmone stagionato, a cut that inherits the glorious tradition of Parma cold meat - in the name as well.
Aged at controlled humidity and temperature, it follows Claudio Cerati's rules and enhances the flavours broad range with peculiar taste and saltiness.
The Salume di salmone stagionato expresses itself through presentation and way of consumption: thin slices perfect for an easy waiting service, for an immediate taste and for quick recipes. Adding to that, a comfy package of 50g!
For every choice we make, we always consider the balance between taste and convenience; real meeting point between flavours and changing consumption needs.
Salume di salmone stagionato