Upstream's new salmon is cured
From smoked to cured in the Parma tradition: our latest innovation is online, to impress the finest palates with an unprecedented taste experience!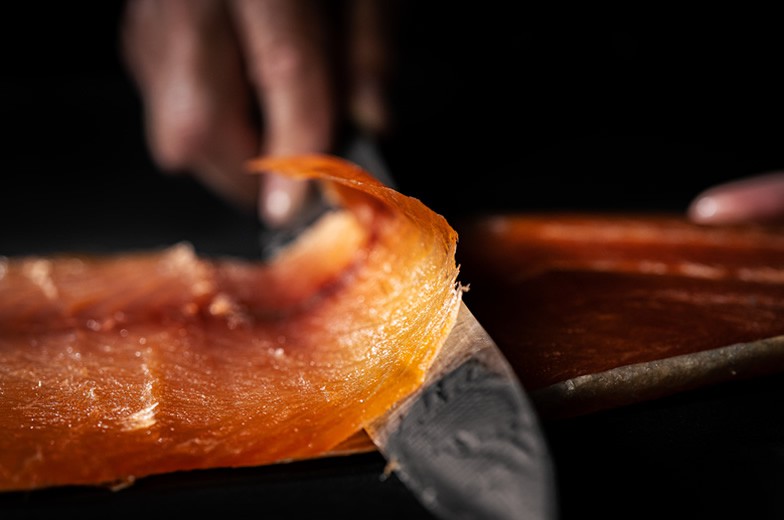 We had been thinking about it for a while, realized it and brought it to preview at Cibus 2022: Upstream cured salmon is a reality, available for pre-order on the dedicated page.
A special product, the cured salmon translates the combination of Parma's expertise on curing and the North European know-how on salmon into an even more exclusive flavour. The shape of the cut allows alternative tastings; the front part can be tasted in thin slices cut with a knife, the back part grated as roe.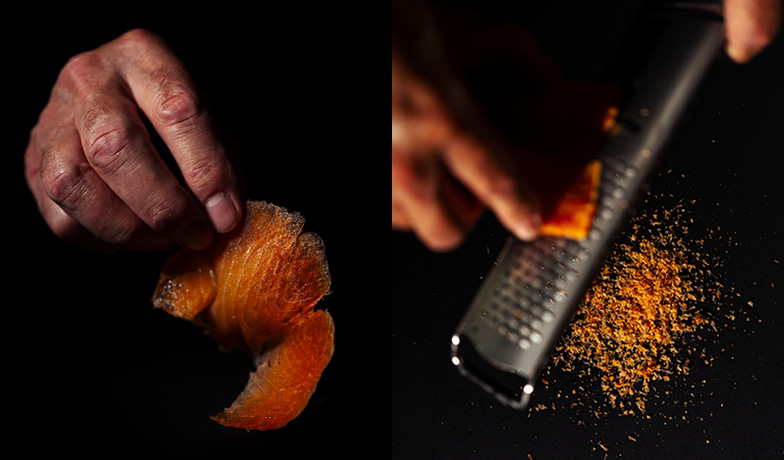 It is a fresh product without preservatives.
Seasoned as Parma teaches
The first Italian to be named a UNESCO Creative City of Gastronomy, Parma passes on a passion for good food and teaches us how to produce it. In this genetic inheritance we found the key to our new delicacy: seasoning, a natural method of curing tradition. 
This traditional technique has led to the success of many local specialties; it developed particularly in the Plain and hills of Parma also due to the environmental context, which allows for a favourable and specific climate for each type of product, not just cured meats.
To cure our smoked salmon we have found the perfect combination of controlled humidity and temperature, with the complicity of an essential condition to run the process naturally, time.
By letting the wait to scan the taste and aromas of our salmon, without speeding up or forcing, we leave things in place to achieve the best possible quality.
For those who expect the best
To mature its intense flavour, well balanced between sweetness and sea savoriness, salmon needs slow curing. An exclusive stage, available only upon request through pre-order. 
Thus, our smoked salmon is brought to cure until it reaches the ideal texture and flavour; when finished, we package it in proper food-grade paper envelope, inside the elegant Upstream black and silver cotton bag. 
Then, we ship it to the recipient, to those who value the pleasure of waiting for their cured salmon to be perfectly accomplished, aware of the exceptional result that awaits them. 
Our mission is to offer something surprising and superior every time, something that will amaze and satisfy the finest palates. This is the time for Upstream cured salmon!