Evolutions and variations of the divine salmon
This new Upstream book is more than a collection of recipes: it is a collection of stories of friendship and Italian creativity in the kitchen that came together thanks to the unique taste of Upstream salmon.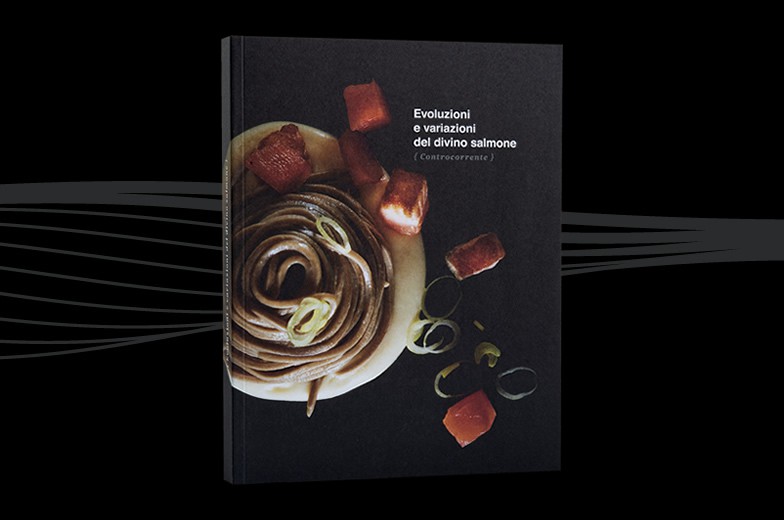 A book reveals infinite ways, and we have designed and created it like this: Evolutions and variations of the divine salmon is the new Upstream book, available online both individually as well as in The Taste Jouney box and Three-in-One Plus box.
We give the reader the opportunity to follow the route of excellence through  different concepts of gastronomic preparation; we come to recipes with Upstream smoked salmon through extraordinary interpretations of our raw material. This is made possible thanks to the Italian creativity in the kitchen, seasoned with the value of friendship.
The pleasure of tasting superior quality
We love to create something exceptional for those who appreciate the quality of our salmon, as it comes from being a healthy, lean, delicate and refined food. 
Evolutions and variations of the divine salmon is an expression of our unique and incomparable smoked salmon, it is an invitation to experience a joy of greater taste. Our book is the reflection of Italian minds and hands that distinguish themselves in the culinary art.
Filled with suggestions on the best use of Upstream salmon, this book is as inspiring for the professional as it is for the simple lover of excellence; for those who demand superior quality and enjoy it with equal pleasure.
Upstream smoked salmon recipes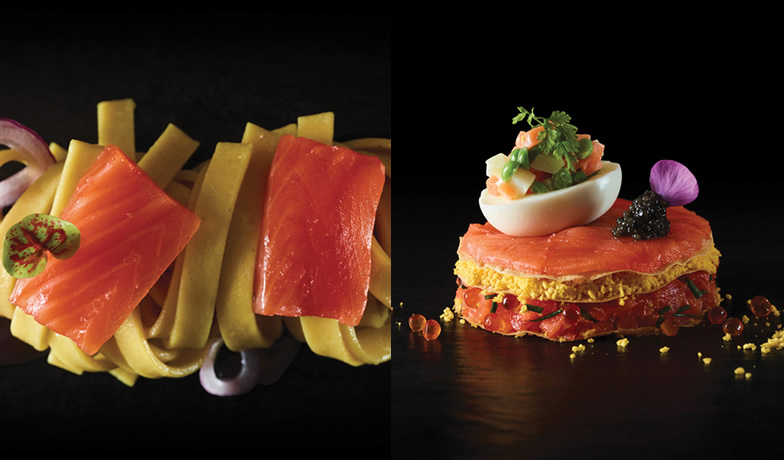 In the Upstream book, our salmon is serving the imagination of Italian chefs and pizza makers who challenge themselves to create original top-quality dishes.  In the kitchen they combine genius, flair and culinary art, and the sensuality of shape and colour.
With our smoked salmon, cold and hot recipes give life to I Grandi Classici and Le Novità 2021, the two strands of Evolutions and Variations of the divine salmon in which excellence is a mix of the inventiveness of chefs and the versatility of perfect raw materials, through which we rediscover the authentic flavour of smoked salmon. 
It is a taste that we reach thanks to the exceptional lightness of the fish - free to swim in crystal clear waters -and fed in a healthy way, the delicacy of the exclusive marinating with alternating salt and sugar and the sweet aroma of smoking with the beech of the Parma Apennines. 
It is our taste, but also that of those who, like us, have the ambition to try an incomparable salmon. Together with our chefs to wanted to give life to something different from the usual collection of recipes, to create unique proposals behind which are hidden  not only stories of skill, but also stories of friendship.  
The secret ingredient in taste sharing
Enjoying good things together. 
The Upstream salmon was initially intended for friends: for over ten years Claudio Cerati has been creating, experimenting and improving a salmon for them, a gift for Christmas, different and better every year. His intention was to obtain an authentic flavour, tasted some time before and never found again.
And it was a friend who brought to his attention how "that" taste, which had become perfect, deserved to be shared even more.
Since then, Upstream's friends have grown in number, and with some of them we have created our own work, with chefs and restaurateurs that have recognised and appreciated the authentic flavour of Upstream salmon and made it available to their creativity.
This is how Evolutions and variations of the divine salmon become a book, with pages of shared and sharable stories that open to new directions, always upstream. 
Watch the video presentation of the book Evolutions and variations of the divine salmon.
The new book in the proposals Upstream
The collection of Upstream recipes, in a precious photographic volume
A unique gift, to taste and explore Upstream flavours