Sustainability, a word from inside to outside
Struggle for perfection and innovative spirit: this the highway that has driven us upstream, without leaving behind the most important concepts.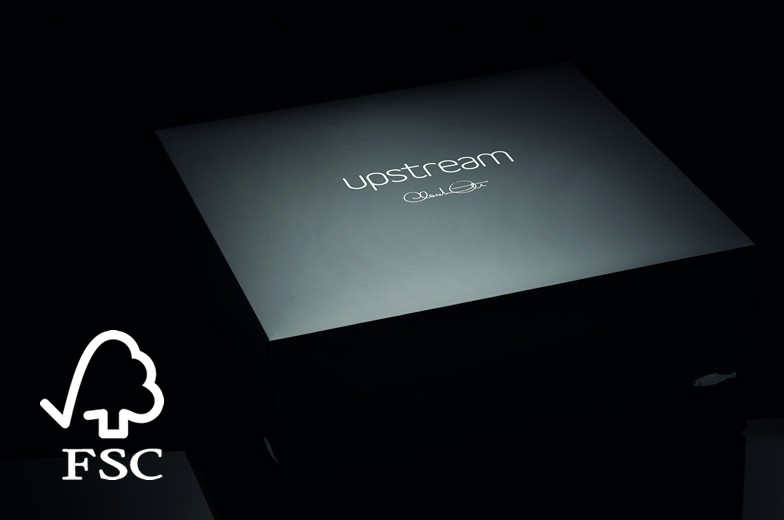 Since the very beginning, we have been taking the path of sustainability. We decided to apply this philosophy starting from the raw material: only from the cold and crystal-clear water of Northern Europe, where water is pure and where aquaculture systems are the most rigid and under control.
The following step includes a light workmanship that reflects the excellence of the raw material. Marinating consists of a little sugar and salt in different stages. Then only beech wood from the Apennines is used for smoking. Both steps made by specimen in a state-of-the-art manner.
Obviously, the company philosophy does not affect only processing, but also next stages, starting from packaging.
Let's focus on it and explain our path through sustainability.
It's a kind of packaging

We choose our suppliers very carefully, since we have been looking for a company which is able to combine our style requirements with environmental protection, and raw material safety (from paper to ink), for all our black, silver, and bronze packs.
FSC® certification
FSC certification ensures that products come from responsibly managed forests, controlled sources, and recycled materials that provide environmental, social, and economic benefits, all this without undermining environmental balance.
Primary fiber
Our packaging is made of 100% primary fiber. This ensures safety and resistance to our packaging, and winks at aesthetic performance, despite of secondary fiber. Primary fiber is vital for paper recycling, since paper can't be recycled so many times without degrading. The use of primary fiber allows, in this way, to ensure and maintain recycling alive.
Our packaging is made with primary fiber only from high quality wood pulp that, thanks to its qualities, becomes the first choice for top packaging.
We love getting to the core of things and we think that acting in this way, we can have environment, co-workers, and consumers approval – or at least, we hope so! Enjoy!